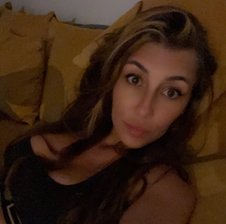 Lexxxxy
Takip
Çevrimiçi olduğunda bildir
27, Koç, DreamsLand, Conquer me to know more
Son Giriş:
05.12.2023 07:14:07
Lexxxxy
ait önemli bilgiler
| | |
| --- | --- |
| Cinsiyet | Kadın |
| İlgilendiğim kişi | Erkek |
| Yaş | 27 |
| Boy | 5'7" - 5'9" [170cm - 175cm] |
| Kilo | 100 - 120 lbs [45 - 55 kg] |
| Saç | Kızıl Saçlı |
| Gözler | Kahverengi |
| Etnik Köken | Beyaz/Kafkas |
| Diller | İngilizce, İspanyolca |
| Memleket | Conquer me to know more |
| Kasık Kılı | Tıraşlı |
| Göğüs | Büyük |
| Popo | Orta |
I love lovense vibes.If you want to get my attention make me feel your vibes!! Tipping fast and big ,you will make me explde and feel in heaven!♥
Hey! I'm Alexya, and it's a pleasure to have you here. I was born on March 24th, and I'm an Aries. I am a blend of a fearless warrior and a rebellious child—passionate
, sensual, and spontaneous. In my room, you'll find a sensual presence filled with mystery, desire, and adventure.

I love being on cam because it allows me to discover and experience sensuality and satisfy my sexuality in your company. It's also a great place to make friends from all over the world.

Apart from that, I have a great passion for digital art, and most of my days are spent learning and developing this aspect of myself. Additionally, I'm a crypto investor and NFT collector, and I dedicate some of my time to exploring Web3.

Always feel free to say hi and start a nice conversation with me. I truly appreciate all your love and support, and I thank you for making me feel special. If you're new here, don't forget to follow me!
I hate demands. Once you are in my room you can enjoy my show,if you like something special you can tip and ask me the price.If you If you are not able to tip then sit and enjoy...and If you don't like what i'm doing then u can go away...I hate demands... Who demand recive Ban! Thank you !
Web kamerasında yaptıklarım:
Lexxxxy kişisinin amatör klipleri

40 hediye
1:33

60 hediye
4:10

499 hediye
14:14
1

https://www.amazon.de/hz/wishlist/ls/7EUU4DBVXI6Z/ref=nav_wishlist_lists_1?_encoding=UTF8&type=wishlist
Tiping me you are showing your love and make me feel gr8...Letțs have a gr8 time together ...Love youu guys ...xoxo
Devamını oku